Coronavirus in Syria: AirPlus staff in France supports charity to help children in Syria
The effects of the Coronavirus crisis have spread to every corner of the world. But some places have been challenged more than others. We've all followed the developments in Wuhan, Italy, and New York, but how has life changed in fragile areas already coping with conflict, like Syria?
In the midst of the global crisis, AirPlus employee Marie Auzanneau and two of her colleagues took a pledge to fund the education of 30 Syrian children for a year. (Visit the charity's site here.) We reached out to Marie, Senior Marketing and Communication Manager for France, to find out what inspired such remarkable charity at a time when most of our concerns are much closer to home.
The coronavirus pandemic has had economic consequences even in the most stable of regions. What inspired you to focus your support on the most vulnerable?
Despite the difficult economic context of the coronavirus, let us not forget that armed conflicts continue to rage around the world. It is the most vulnerable people - women and children, people with disabilities, marginalized and displaced persons - who pay the heaviest price.
Especially in war-torn countries such as Syria, health systems have also collapsed. Just to give you an idea: only 400 coronavirus cases are enough to saturate hospital systems in Syria.


Your charity of choice is
Baroudeurs De l'Espoir
. How did you come to that decision?
We heard about Baroudeurs de l'Espoir through their 'Amalia' project (Amalia means 'hope' in Arabic), which is a symbolic hike that takes place at the same time in France and Aleppo. In France this year, it was supposed to happen in late June with an ascent to almost 4,000 meters in the Alps. It has, unfortunately, been canceled due to the coronavirus but we decided to go ahead and collect to help this cause.
That's how we discovered this association and all their actions to support health and education in Syria. We choose to support this association because it's small, consisting of volunteers only and with this key principle: €1 collected = €1 back for projects in Syria.





You've said this cause is close to your heart. Why is that?
We met Diane, the association president, who is a really inspiring and generous person. She told us about the association, the mission they lead to support kids and education there. I think the child dimension particularly touches me (being a mom of two little kids). Every child should have the right of access to education, and to enjoy their youth. Children there are afraid every day a bomb might drop on their home. It's completely terrifying… When you hear Diane start to tell Syrian stories (she goes there twice a year), first you just want to cry, and then to get involved and help.

What in your view is the relationship between education and quality of life? Does education help against threats like the coronavirus pandemic?
Education is a key tool to fighting all forms of poverty and reducing inequalities within countries.
In addition to its direct economic impact on poverty, promoting education is essential for improving health performance. Educated people are better informed about potential diseases and can therefore better prevent them, which is key for the coronavirus pandemic.
And last but not least, those educated generations will be the ones rebuilding their country after war and promoting human rights, gender equality, a nonviolent culture, and the contribution to sustainable development and lifestyles.
More than two million children are currently out of school in Syria. The association takes care to also offer this school access to girls, who are often discriminated against, as well as offering psychological support for war-related traumas.


From the relative security of stable regions like France, conflict zones such as those in Syria can feel very far away. What do you find most important about recognizing our common humanity?
Despite cultural diversity, we are all humans, with the same feelings and fears.
We belong to the same species, Homo sapiens. But despite this fundamental unity, humanity is diverse: our lifestyles, our ways of thinking, our language, our relational habits, the way we eat, the way we dress, our musical choices, our beliefs, the way we build our homes, all these different characteristics mean that there is a great diversity of cultures in the world, all of equal value.
Despite the cultural diversity, we are all humans with the same will to live (or survive, in their case).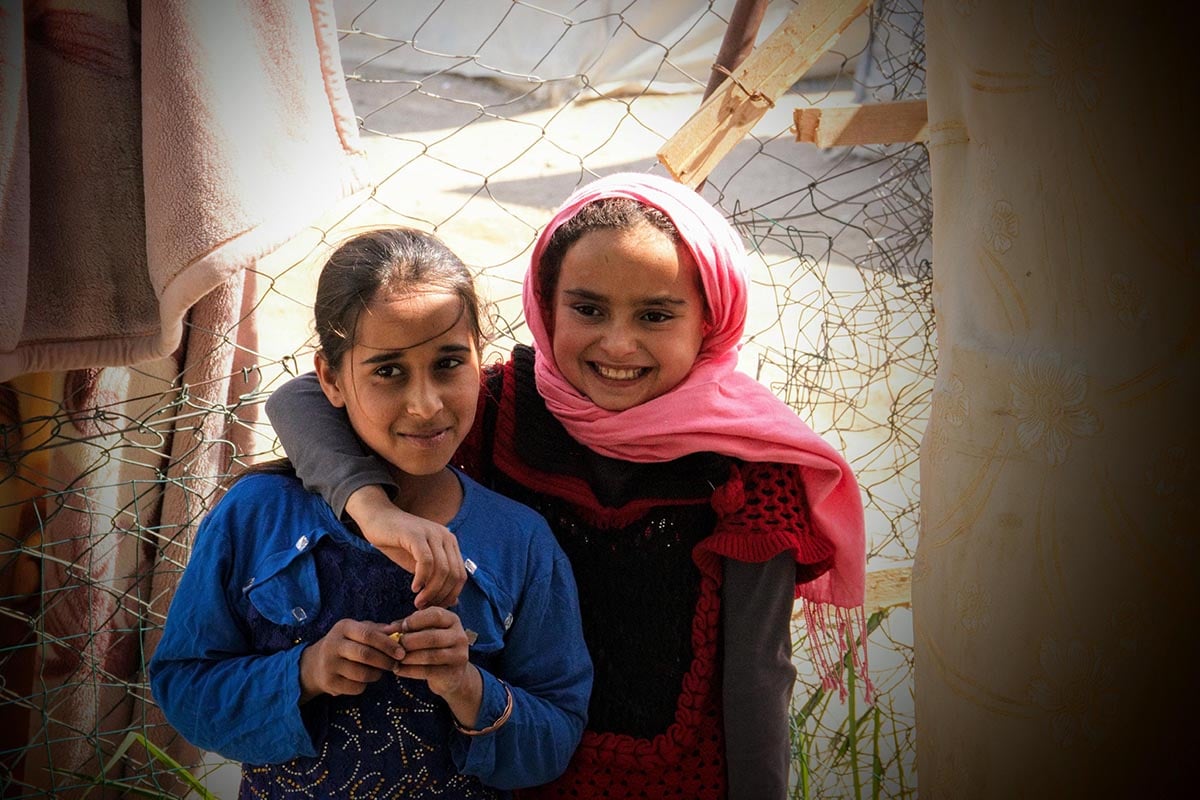 What advice would you give to those who want to lend a hand at this challenging time, but don't find the same causes close to their heart?
We need to think out of our comfortable daily lives and be conscious of the fact that war-torn countries are living in a nightmare every day. To give you some figures, Syria has been in conflict for nine years, 80% of its territory destroyed, 500,000 dead and 8.4 million children displaced. Syrians are enduring awful conditions with 69% struggling to survive in the most extreme poverty. Some 5.6 million people face vital threats to their security, basic rights, or living conditions and are in desperate need of emergency humanitarian assistance.
How can we not react? We were born by chance in our comfortable lives but what if it were your family there? They chose neither their home nor war. We can't just close our eyes and pretend they aren't there... One of the association's baselines is, "I've been a spectator for a long time. Today, I decide to act." I really like that!
Our goal for 2020 is to finance the education of 30 Syrian children for one year! A €200 donation represents one year of school for one child.
€1 collected = €1 used directly in Syria. All collected funds are entirely used for the cause.
I know it can be more financially difficult for some of us so keep in mind that in most European countries donations can be partially deducted from your taxes.
Thank you very much for your time, Marie. Your compassionate action is an inspiration to us at AirPlus and beyond. Good luck!