Plastic cards have been around now for decades. They represented a major shift in the way people and businesses made payments and managed their money. But in this digital era, a new solution has come about that does away with physical cards.
We're of course referring to virtual cards.
This latest innovation to the traditional payment card has many inherent benefits that make them the ideal choice for many. And that includes businesses.
But what does that mean for the humble plastic payment card? Before we can answer this question, there is another fundamental one we need to answer:
What's the difference between a physical card and a virtual card?
For the purposes of today's topic, we'll be simplifying things by splitting payment cards into two broad categories: physical (plastic) and virtual (digital).
Let's make sure we're on the same page first:
Physical card

A plastic or physical card is a traditional, physical payment card. It's the sort of thing you keep in your wallet or purse and pull out when you make a payment.


See our corporate cards as an example (pictured).

Physical payment cards come with an embedded chip, known as a EMV chip, that can be read for increased payment security. RFID and NFC are also included in modern cards for the purposes of contactless payments.

---
Virtual card

A digital or virtual card is a digital version of a payment card. It only exists on the particular device or software that was used to create it – a digital wallet.

See our virtual corporate cards for travel and for procurement as an example (pictured).

Virtual card payments are either handled through contactless technology (in-store) or via online payment processors. They can quickly be generated and used at a moments notice.
Similarities between physical cards and virtual cards
Fundamentally, these two card types are very similar.
Same information
In both cases, you have all the details you need to make card payments, including a 16-digit card number, expiration date and CVC code. Payments are processed through the same systems and in each case are linked to a pre-existing credit card account.
Same processing
The fact of the matter is that both varieties of corporate card offer a central payment option that combines transparency, reporting options and standardized processes with the flexibility of being able to pay on the go without having to pay in advance.
The only tangible aspects being lost are the physical parts – the card itself and the chip/data it contains.
But the digital nature means that virtual cards have innate capabilities that we don't usually see with physical cards.
Benefits of virtual cards
As the newer of the two, it's fair to assume that virtual cards offer some extra features and functionality. We can touch on a few of those now.
Integration
Virtual cards are well-integrated into digital systems, making them ideal for paying through online channels.
Online platforms are built around the use of digital payment methods. It's not only quicker and easier, but much more convenient. There's a reason why the uptake of digital wallets is so high – they're the perfect devices for authenticating payments too.
Better management and tracking
Going hand-in-hand with its close integration into digital platforms, users of virtual cards can also enjoy more thorough tracking and management of their transactions.
Whether through an app or a portal, card users will often have a direct interface that can show all sorts of useful and insightful data. After all, there are less steps and 'middlemen' between the transaction taking place and the interface you are using, so it makes sense that it's able to capture and retain more data with every purchase.
More secure
You can't exactly lose what you don't have, right? Virtual cards are actually very secure in a number of different ways.
The biggest security feature is that they can be customized, generated and deleted at a moment's notice. It's possible to generate a new card to use one time for a specific purchase. Any attempt to use or charge the card beyond this transaction would not work. That's a benefit that's hard to beat, especially as payment fraud is a continuing concern for businesses.
There's one more thing worth noting:
In the past, virtual cards were strictly used for online payments. Now, thanks to growing acceptance of mobile payments and the adoption necessary facilities, virtual cards can now be used to pay in-store too.
That seems all well and good, right? Except…
Plastic cards are here to stay
Despite the surge in virtual card adoption by businesses – with a CAGR of 30% expected between 2021 and 2024 – businesses are still swearing by their physical card for their B2B purchases. [1] Why is that?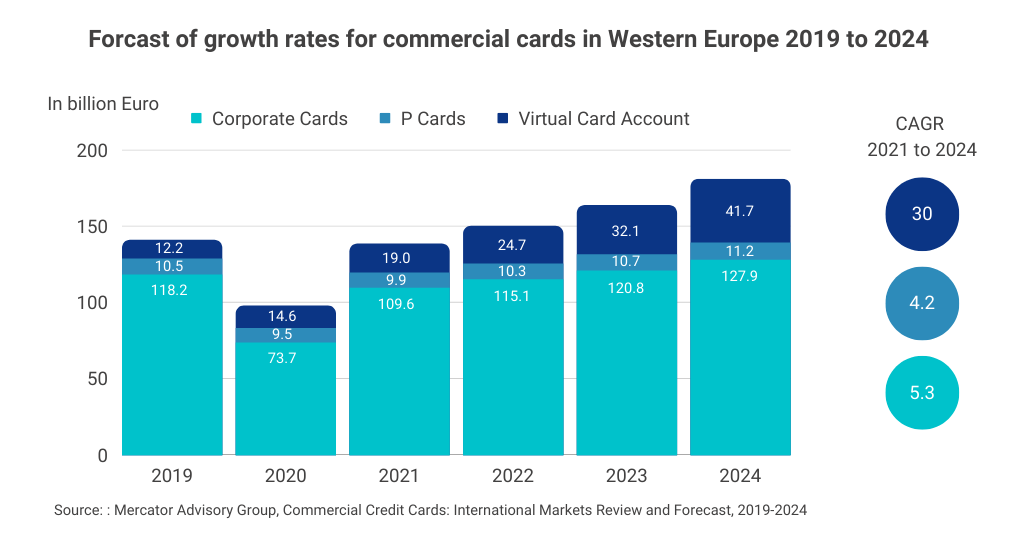 In short, physical cards have one major advantage over virtual cards – and it's a big one for businesses: reliability.
Almost anywhere in the world, you'll find a merchant that accepts a physical credit card. The technology is ubiquitous, especially when it comes to in-store payments. This wide-reaching acceptance makes life easier for all stakeholders in the corporate payment process.
That's important, as our data shows that corporate cards are still the most popular payment method during a business trip.
Any corporate card is preferred in travel, but plastic wins out
We surveyed 1,285 business travelers in 16 countries and found that corporate cards ranked first when asked which payment methods were permitted by their policy.
In fact, 98% of all business travelers surveyed worldwide use their card on the road if they have one. Both business travelers (84%) and travel managers (85%) are highly satisfied using their corporate cards too.
In Germany, 77% named plastic credit cards as their top choice, ahead of other central payment methods such as mobile wallets or virtual cards.
But the topic of central payment is also becoming increasingly important in non-travel areas.
Beyond business travel
Both plastic and virtual cards continue to play an important role in not only business travel, but also in procurement. Corporate cards in general are ideal for procurement purchases. In particular, they help to cover long tail spending and ad hoc purchases.
It all comes down to the immediacy and compatibility with digital payment channels which are often card-based. Corporate cards in both forms are superior to more traditional corporate payment methods in this case - and that's a common trend.
Blurring the line between physical and virtual

As a side note, another trend seen that is helping to bridge the gap between physical and virtual cards is tokenization. When using a digital wallet, it's possible to store the details of your physical card to be used for payment - no plastic card needs to be present.
The recent addition of our corporate cards into Apple Pay is a prime example of this.
The main issue here is compatibility, as acceptance of cards into digital wallets has to be done on a bank by bank (or institution to institution) basis.
What's on the cards for virtual cards?
That's not to say that virtual cards are a slouch.
There's a clear overlap between the two types of corporate card. There are plenty of strengths for either, which is why it is not uncommon for businesses to utilize both as part of their payment arsenal.
There are just a couple hurdles that need to be overcome before virtual cards can truly become universal. The first is the acceptance issue – they are limited in this respect as they rely on NFC or similar POS technology for the transaction to be made. So, while adoption is increasing, it is not quite universal yet.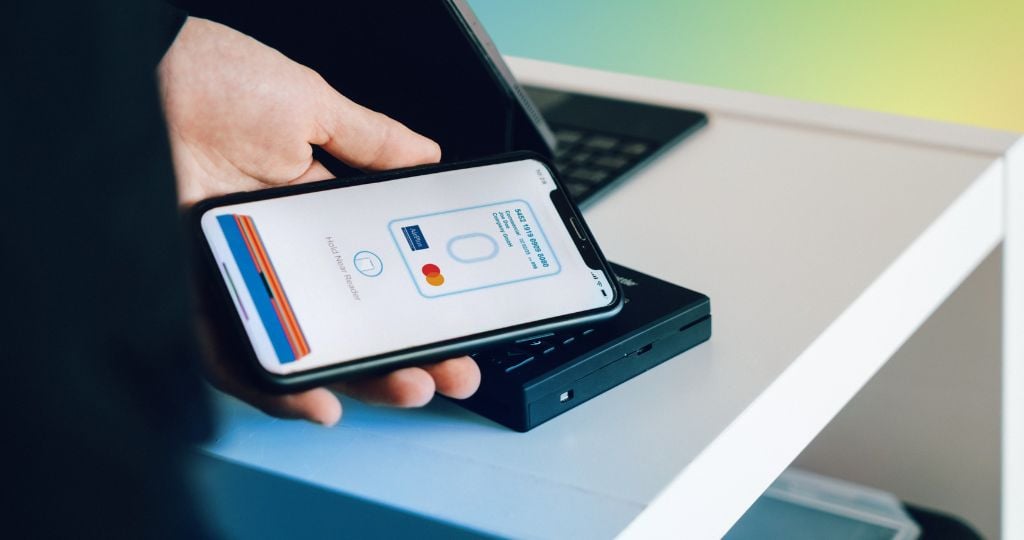 Virtual cards have made the first step to overcoming the issue of in-store acceptance thanks to mobile
The other problem is that businesses generally are not the fastest when it comes to adoption of new technology. Even back in late 2020, we found that around 88% of the companies surveyed in Germany and Switzerland pay for long tail, ad hoc purchases using an account or making a bank transfer. [2]
This is somewhat understandable though, with workflows needing to be reworked and security and fraud audits needing to be performed. But it is far from optimal.
And, as the data shows, these are being overcome. Between the pandemic, remote working, the growing reliance on online platforms for procurement purchases, and the rise of business travel, virtual cards have a lot to look forward too. And so do physical cards.
Against all odds?
The conclusion is simple: both have their place in the payment workflow of businesses. Plastic cards naturally have the upper hand of being established first, but still have some properties that make them particularly ideal for B2B scenarios. Workflows have been built around them, and they wide acceptance is of particular interest to business travelers, as mentioned.
But virtual cards also have their place. They are an ideal tool for managing online procurement payments. Highly digital – and thus highly compatible – virtual cards look to continue their push into the B2B spending market. And let's not forget the role of the platforms you use – the cards are just one part of your wider procure-to-pay process, after all.
It's down to the business and their specific needs. In the end, if it works, it works.
We of course know a thing or two about corporate cards and virtual cards. No matter which side you are on, you'll love our newsletter – sign up now to get more stories and data like this from the corporate payment scene.
Banner photo by Towfiqu barbhuiya on Unsplash
[1] Mercator Advisory Group, Commercial Credit Cards: International Markets Review and Forecast, 2019-2024
[2] https://www.airplus.com/corporate/en/media-relations/press/press-releases/2020/corporate-payment.html