Let's say you have a meeting. You're currently in Zurich, but your meeting is with a potential partner in Milan. Between the two cities, there are plenty of short-haul flights available to choose from – usually taking around one hour and a quarter. However, there is also a direct train option. The travel time for this 217km trip? Three hours and twenty minutes.
With such a difference in travel time, the flight should be the obvious choice, right? Perhaps not.
At least for national and regional trips, it seems now that the train may increasingly be the top choice for people in your hypothetical shoes. But why? What is behind this latest travel trend?
As it turns out, there are 5 big reasons – and plenty of data to back it up.
1. It's cheaper
Who doesn't love a good deal? Whether going the route of loyalty or otherwise to save on costs, it doesn't change the fact that business travel is getting more expensive. Thankfully, train travel seems to be the better deal for those shorter trips.
Especially when it comes to last minute bookings – a common occurrence in business travel – trains can be cheaper than an equivalent flight. On our Zurich to Milan trip, the train ticket was consistently cheaper than the equivalent plane ticket in the weeks building up to the travel date.[1]
This isn't including extras either. Many trains offer Wi-Fi onboard at no additional cost, which can make a big difference in productivity or at least for entertainment. You also don't need to pay for stowing your baggage, which can be the case for some low-cost airlines.
All things considered, it's well worth doing a price comparison. The closer you are to your travel date, the better value the train may be. And don't forget to factor in the cost of getting to and from the station or airport either – that can also make a difference.
2. It's convenient
Flying can be fun but some aspects can make it quite stressful – going through security and waiting at the baggage reclaim doesn't exactly inspire excitement. If you're flying economy, then you're unlikely to get much work done on the flight too.
Trains are much more convenient in this regard. Depending on where you sit, there are usually tables and plug sockets for charging your devices, There's also no need to remove liquids or batteries from your bag or, depending on where you are going, take your shoes off. You can arrive at the station just 15 minutes before departure.
At the same time, train stations are generally well located within the city – often near the center. That makes it less of a headache getting to your hotel or office.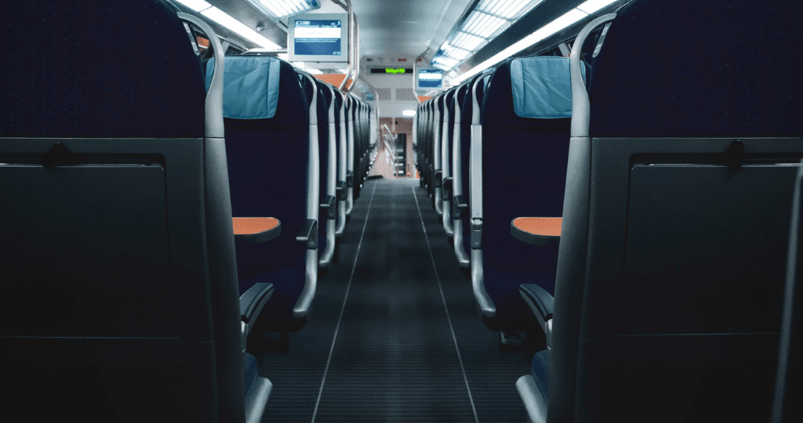 That's not to mention night trains, which are making a comeback in Europe.[2] These trains offer a different experience that – if incorporated into planning – can be both convenient and cheaper as it saves on a night at a hotel when they would otherwise be stationary.
There are of course business class options that are suited to those traveling on business. This may even be a solution for longer journeys that would otherwise be inconvenient to make by rail.
So yeah, trains can be a much more convenient, scenic, and comfortable travel option for business travelers. But there is another key factor to the convenience offered by trains (at least in some cases): speed.
3. It's quicker (sometimes)
On top of the convenience, there is also a speed factor. Of course, this is heavily dependent on the distance and the train itself (high-speed rail naturally have the upper hand). There is a time and a place for train travel – only a dedicated few would be interested in spending days in a carriage for their intercontinental trip.
The good news is that some evidence has appeared suggesting up to distances of around 500 miles (800km) travel time by train is comparable to plane.[3]
However, a quick search online will make it appear as though the train rides are significantly slower in many cases. This doesn't show the full picture though. In fact, there are cases where flights are actually slower when compared to train – and that's despite having a significantly longer travel time on paper.
When it comes to flying, the general advice is to arrive at the airport around one or two hours before your flight, depending on factors like where you are going. If you are traveling during high season, this can be much more. This is because there is a lot to do before you actually board your flight and take off.
Looking again at our example before, a train ride from Zurich to Milan takes around three hours and twenty minutes while the plane takes about one hour. But this does not factor in the transit time. Considering the journey to the airport, the time it takes to check in, go through security and then pick up your bags on arrival, that flight from Zurich to Milan would be closer to four hours.[1]
So, seeing as 26% stated that they would prefer to use trains if they need to reach their destination faster, this is a promising development.[4]
4. It's more sustainable
You can't talk about the current travel scene without mentioning sustainability. In a time of ever-available ESG data, there's plenty of reason to consider your focus on sustainability goals.
And it's not just the governments and investors that are eager. It's a big topic in the minds of travelers – especially those who travel regularly for work.
A study of 1,000 regular business travelers found one in five said they would travel by rail to reduce their carbon footprint.[5]
As it turns out, domestic flights are not particularly environmentally friendly. When considering the carbon emissions and secondary effects, domestic flights emit around 254g per passenger per km. That's around 6x more than domestic rail.[6]
It is worth mentioning that it is now becoming increasingly common to offset carbon emissions from flying – even directly during the booking process. However, this will ultimately add to the price and make these short-haul flights even less competitive in that sense.
5. It's only going to get more competitive
As time goes on and priorities shift, the topic of transport has become more and more in focus. Sure, there are topics like MaaS which are changing the way we as travelers interact with travel providers. But other forces, such as the government or even advances in technology, are making rail transport even more competitive.
Looking again at that rail trip from Zurich to Milan, there's more to the story than meets the eye. If you know your geography, you may have realized that this trip would see you heading towards the Swiss Alps. The journey used to go around the mountains, taking over four hours.
But in 2016, the €11 billion Gotthard Base Tunnel was completed, offering a shortcut through the Swiss Alps and cutting half an hour off the journey time.
Here's another example: One study found that following the introduction of high-speed railway lines in Spain, the number of air transport operations fell by 17% while travel demand increased.[7]
Finally, there is regulation from the likes of the French government, which has banned short-haul flights where an alternative transport option (like a train) of two and a half hours or less is available.[8]
This has led to changes in the way businesses approach localized travel. Naturally, this preference for trains has a limit – exactly what that limit is changes from company to company. Accounting firm PWC reportedly only allows employees to travel by plane to destinations more than 800km (500 miles) away or more than five hours' drive.
That's just one example, but it highlights the general approach companies are taking in their travel policy.
The bottom line
As you can see, there seems to be a new trend brewing.
Despite the persistence of online meetings, many companies are still choosing to travel in a lot of cases. Train travel in particular will now be prioritized where possible. Domestic travel or shorter trips will be those looked at with the most scrutiny – especially in Europe where the rail infrastructure, the availability of high-speed rail is rather good, and there are no border or custom checks to deal with.
It isn't all cut and dry, however. Price, travel time, travel time reliability, frequency of the connections and other factors like personal preference also play a big role in the use of rail vs plane.[9]
It may ultimately be external factors that steer this trend onward. Is the right infrastructure there? It seems so. And with governments having a say in the matter, investment in rail seems to be increasing too.
But this is just one of the many shifts happening in the business travel scene right now, right next to exciting new technologies like the metaverse, for example.
Want to learn more of the biggest trends in business payments and travel? Subscribe to our AirPlus Global Newsletter to make sure you get all the latest content.
Photo by Charles Forerunner on Unsplash
Photo by Christian Lue on Unsplash
[1] https://www.dw.com/en/trains-vs-planes-whats-the-real-cost-of-travel/a-45209552
[2] https://www.bloomberg.com/graphics/2021-europe-travel-night-trains-flights/
[3] https://travel.admin.ox.ac.uk/business/plane
[4] https://www.railway-technology.com/news/business-travellers-use-more-trains-post-pandemic/
[5] https://thebusinesstravelmag.com/study-shows-shift-from-air-to-rail-for-business-travel/
[6] https://www.bbc.com/news/science-environment-49349566
[7] https://www.sciencedirect.com/science/article/abs/pii/S0967070X1200087X
[8] https://www.forbes.com/sites/alexledsom/2022/04/03/france-travel-many-short-haul-flights-outlawed-from-april/
[9] https://www.eea.europa.eu/publications/transport-and-environment-report-2020