Testing the waters: AirPlus CEO restarts business travel as GBTA sees promising signs
All across the world, travel has ground to a halt in the face of the coronavirus pandemic. Vacations have been canceled, planes parked in the desert, and businesses have scrambled to find remote means of fulfilling their obligations to customers, clients, suppliers, and employees.The same has gone for us here at AirPlus. We called off all non-urgent travel for the last several months, and even our top management has hardly ventured afield. But now as restrictions are lifting and safe protocols are established, many of us are anxiously toeing the line for a restart to business travel.
Why the rush? Well, a recent study from the German Travel Association (DRV) shows that 85 percent of German managers prefer meetings in person to platforms like Zoom, while 43 percent plan to drastically decrease virtual communication in the near future. Check out the report in German here.
Hoping to test the waters, AirPlus CEO Oliver Wagner recently took the opportunity to visit our office in Paris, using the trip as a dry run for the "new normal" of business travel. He documented his travel experience to help pave the way for others.
AirPlus CEO Oliver Wagner recently took his first post-pandemic business trip.
The journey began at the Frankfurt airport…
At first glance, it seemed more or less like business as usual – except the very low volumes and several closed up shops. "The processes were basically the same, except for the rules to keep your distance and to wear a mask," Oliver reported. That comes as no surprise: airports across the world have pulled out the stops to attract travelers back, and boast some enhanced services like lounge access and pre-arranged security checks.
Plenty of room these days in the Frankfurt airport.
Has this time been a significant challenge for you?
And it seems to be working. Despite the near-complete freeze on business travel just a few months ago, the Global Business Travel Association (GBTA) recently announced that half of all businesses are considering resuming travel in the near future.[1] Nearly a quarter (22%) have already planned their first trips.
Back in the airport, Oliver had made it to the lounge for breakfast. The reduced menu offered prepackaged food. Perhaps not exciting, but virus approved.
Soon enough it was time for boarding…
A pleasant, orderly experience, it turned out. On the flight to Paris the seat right next to him was empty, which was appreciated. Instead of a snack, travelers received only water – and disinfectant. "It felt a little strange," Oliver admitted. "But everything was fine."
Though it was a short flight – just the hour and a half from Frankfurt to Paris – it was international, making it an even rarer foray for corona-era business travel. A majority of companies (60%) foresee a return to domestic business travel by the end of the summer.[2] International travel will certainly take longer to return to pre-pandemic levels. Just how long depends on too many open factors to speculate due to the various social and political conditions from country to country. GBTA's latest report interprets its findings as "small signs of optimism in the travel sector," which is just short of astounding so soon after the colossal challenges of the global virus. It's the latest step in a cautious but steady recovery.
Mission: accomplished
With the travel spell broken, Oliver found himself in Paris in the AirPlus France office almost as if it had been a normal day.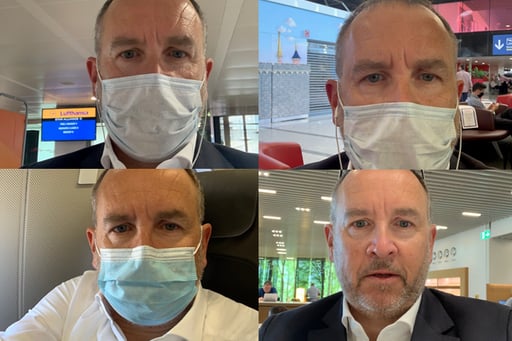 Destination reached. Time to dare the free air.
Later, with the business day behind him and the travel ice broken, the return journey took care of itself. This time, there was no empty middle seat. And though it felt strange in times of social distancing, this veteran traveler wasn't fazed.
"It isn't very efficient," he said, referring to the discussion of mandating an empty middle seat. "And more importantly of course, it's not necessary from a health perspective, as travel by air is very secure with wearing masks and filtering the air."
The verdict?
"My overall impression was very positive. It felt good to be back in the air!" Yet nearly half of all GBTA respondents (45%) report expecting to wait upwards of half a year before returning to international travel. The decision to resume travel is a personal one, and each company will have to make the best of their particular situation.
We at AirPlus have at least discovered this much through our CEO's test trip: "Business travel is definitely already feasible." And feasibility is a start. But the confidence of the entire world will take time to mend. Inform yourself of the realities and restrictions of wherever you are and where you're headed. Always prioritize your health and wellbeing, and that of your employees. If you have finally decided to book that flight, there's never been a better time to spring for business class. Built-in social distancing.
[1,2] GBTA Report, June 2020